Saving for your dream
Texans are smart with their savings. Have you ever wondered who owns the credit union? The answer is you! Each person that opens and maintains a savings account with Texans automatically gets one share of ownership. This share gives you the right to vote when important decisions are made at the credit union, such as electing directors to the board. Credit unions charge fewer fees and offer lower loan rates because the members are the owners, which eliminates the need for making a big profit to pay board members.
Savings Account
A Texans Savings account is the foundation of credit union membership, and it offers:
ATM Card – Access your money at 80,000 surcharge-free ATMs
Mobile Banking and Online Banking
Mobile App with Mobile Deposit
Personal finance management tool in online and mobile banking
Free check-cashing with direct deposit
Can be used as overdraft protection
Education Savings
Texans are planners, so that's why we offer a tax-free savings account for your child's covered educational expenses. A Coverdell Education Savings Account can also be opened as a Certificate of Deposit Account. Each Coverdell Education Account (CESA) provides:
Dividends on all balances
Earnings that are tax-free if used for education expenses
No monthly service charges
No minimum balance requirement ($5 opening deposit required)
A withdrawal from a CESA may be tax-free*
Travel Savings
Texans are organized, and that's why we created a savings account that you can use for a specific purpose like vacations, holidays and back to school. One Special Savings Account for Multiple Purposes. Every special savings account offers:
Dividends on all balances
No monthly service charge
No minimum balance requirement ($5 opening deposit required)
Benefit
Saving Account
Education Saving
Travel Saving
Access to 70,000
Surcharge-Free ATMs with Allpoint and CO-OP™ networks
✓
✓
✓
Minimum Balance Required
to Earn Dividends
$25

$0

$0

Minimum Balance Requirement
$5 minimum daily balance
-
-
Minimum Deposit to Open Account
$5
$5
$5
Mobile Banking App
with Mobile Deposit
✓
✓
✓
Monthly Service Charge
$0
$0
$0
Online Banking with Bill Pay
✓
✓
✓
Tax Benefit
-
Earnings are tax-free if used for a qualified education expense1
-
Mobile Banking
Online Banking
Bill Pay
Mobile Wallets
Mobile Deposit
70,000 Surcharge-Free ATMs - Worldwide
It's Like Having a Full-Service Branch on Your Phone or Tablet!
Manage your accounts, move money around, pay bills, and more:
Access accounts and view transactions
Fingerprint login capabilities for iOS and Android users
Mobile check deposit
Find your closest branch or surcharge-free ATM
View balances without logging in via Quick Balance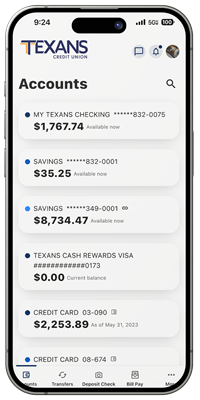 * Withdrawals that are not used for educational expenses are subject to tax and a 10% additional tax penalty of the earnings. The principal is not subject to tax or penalty.